VMware NSX is the network virtualization platform for the Software-Defined Data Center (SDDC).
By bringing the operational model of a virtual machine to your data center network, you can transform the economics of network and security operations. NSX lets you treat your physical network as a pool of transport capacity, with network and security services attached to VMs with a policy-driven approach.
Proven Networking for the SDDC

The NSX virtualization platform is helping hundreds of customers realize the full potential of a Software-Defined Data Center. NSX delivers for networking the capabilities VMware already provides for compute and storage. Create, save, delete and restore virtual networks on demand, without reconfiguring your physical network.

Security and Micro-segmentation

NSX brings security inside the data center with automated fine-grained policies tied to the virtual machines, while its network virtualization capabilities let you create entire networks in software. This approach securely isolates networks from each other, delivering an inherently better security model for the data center.

Agility and Streamlined Operations

NSX reduces the time to provision multi-tier networking and security services from weeks to seconds, abstracting virtual networks from the underlying physical network. This lets data center operators achieve faster deployment and greater agility, while providing the flexibility to run on top of any network hardware.

Platform for Advanced Networking and Security Services

NSX provides a platform for bringing the industry's leading networking and security solutions into the SDDC. By taking advantage of tight integration with the NSX platform, third-party products can not only deploy automatically as needed, but also adapt dynamically to changing conditions in the data center.
Benefits
Network provisioning time reduced from days to seconds.
Achieve operational efficiency through automation
Place and move workloads independent of physical topology
Deploy on any hypervisor and consume through any cloud management platform
Integrate third-party network and security solutions through standard APIs
Non-disruptive deployment over existing physical networks or next generation topologies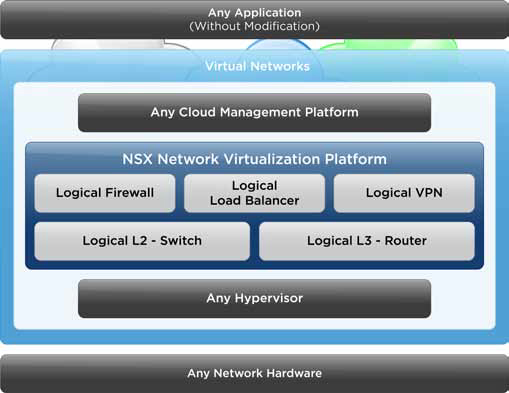 Key Features of NSX
Logical Switching – Reproduce the complete L2 and L3 switching functionality in a virtual environment, decoupled from underlying hardware
NSX Gateway – L2 gateway for seamless connection to physical workloads and legacy VLANs
Logical Routing – Routing between logical switches, providing dynamic routing within different virtual networks.
Logical Firewall – Distributed firewall, kernel enabled line rate performance, virtualization and identity aware, with activity monitoring
Logical Load Balancer – Full featured load balancer with SSL termination.
Logical VPN – Site-to-Site & Remote Access VPN in software
NSX API – RESTful API for integration into any cloud management platform
NSX Use Cases
NSX is the ideal solution for data centers with more than 500 virtual machines. NSX delivers immediate benefits for innovative multi-tenant cloud service providers, large enterprise private and R&D clouds and multi-hypervisor cloud environments. Typical use cases:
Data Center Automation
Speed up network provisioning
Simplify service insertion – virtual and physical
Streamline DMZ changes
Self-Service Enterprise IT
Rapid application deployment with automated network and service provisioning for private clouds & test/dev environments
Isolated Dev, test and production environments on the same physical infrastructure
Multi-tenant clouds
Automate network provisioning for tenants with customization and complete isolation
Maximize hardware sharing across tenants